Today, Donna Schlachter talks about pseudonyms – and then about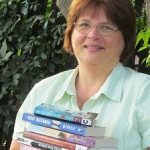 her new book.  Donna lives in Denver.  She writes historical suspense under her own name and contemporary suspense under her alter ego of Leeann Betts.  In addition, she ghostwrites, edits fiction and non-fiction, but manages time for travel, which helps her writing.
"Writing under a pseudonym is a lie and Christians shouldn't do it."
This was a comment left on a recent online discussion group I participated in, and it gave me pause for thought.
As a relatively mature Christian, I know the difference between telling the truth and telling a lie. I know the difference between using tact to save somebody's feelings, or conveying age-appropriate information to children, or avoiding spoiling a surprise by telling too much.
And I know when I'm not using any of those good reasons to alter the absolute truth because what I'm saying either makes me look better or makes another look worse. So if I'm trying to avoid blame, or shift responsibility, or lift myself up by dragging someone else down, that's a lie.
So what about a pseudonym? If I write a book and put somebody else's name on it, is that a lie?
I think it goes back again to the motive. If I'm writing under another name because I'm a bad writer with some really bad books out there, and I want to trick people into buying more of my books by simply changing the author's name, that's wrong.
But if I write in two genres and don't want to confuse my readers, I don't see anything wrong with that. I help my readers in their book selection to ensure there aren't any disappointed buys.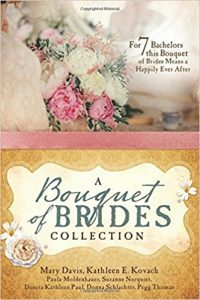 In A Prickly Affair, one of the stories in the "Bouquet of Brides Romance Collection", Lily Duncan writes love stories using a pen name. Her reasons include that she things Daisy Duncan rolls off the tongue easier; is a more romantic name than plain-old-Lily, as she thinks of herself; and she really doesn't want folks knowing what she does in her spare time. If anybody she knew read one of her heart-racing romances, they might think she knows first-hand about that kind of stuff, and her reputation would be in shreds.
But when that nosy editor from New York shows up asking for Daisy Duncan, she is torn between telling him she doesn't know the woman and wanting to find out why he's looking for her. She doesn't out and out like about their relationship, but instead tries to avoid him.
The problem is that this editor, Peter, has fallen in love with Daisy through her stories, and he is determined to bring her back to New York—as his wife. Since Lily doesn't think she's anything like Daisy, they don't start off on a good footing. And in her mind, he doesn't want Lily, the rough-and-tumble cowgirl. He wants Daisy, the tender-hearted writer of love stories.
Thankfully God is in the midst of their confusion, and he soon shows them that what they thought they wanted doesn't come close to the great plans He has for them.
.Here's the teaser:
Short blurb:
Meet seven American women who were named for various flowers but struggle to bloom where God planted them. Can love help them grow to their full potential?
In A Prickly Affair, a rough-and-tumble cowgirl, "Cactus" Lil Duncan longs for true love, but is afraid to let down her prickly exterior when a city slicker from New York City, with less-than-honorable intentions, tries to win her heart and her hand.
www.HiStoryThruTheAges.wordpress.com
www.HiStoryThruTheAges.com  Receive a free ebook simply for signing up for our free newsletter!
Other Books: Amazon: http://amzn.to/2ci5Xqq and Smashwords: http://bit.ly/2gZATjm
Add your thoughts on pseudonyms.  Do you use one?  Do you write under more than one name?  Leave us a comment – and thanks.