Author Frankie Capers has four children, ten grandchildren,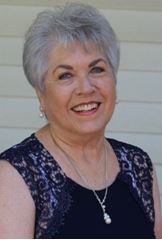 and eleven great-grandchildren.  It's probably the great grandchildren that provide her with many of her stories. Frankie, besides poetry, writes children's Story-Coloring books. The child can color the story as the story is read.  Frankie feels this will help the children develop a love of reading. Here's how one such book came about.
There are not many things as devastating as retiring and having your income cut in half. I found myself at a crossroads in my life when TrailBlazer, a subsidiary of Blue Cross Blue Shield Medicare, lost their bid in November of 2011, and I had to retire and relocate. Where would I live? It was certain I could no longer afford to stay in my apartment in Dallas.
After searching, I bought a cozy cottage home, nestled among hundreds of tall pine trees near the beautiful Lake Cypress Springs in east Texas. It didn't take long for me to realize I was not alone. I shared my acreage with many forest animals, including the red fox, rooting armadillos, curious raccoons, gray squirrels and herds of deer.
The hooting of the owls at evening brought back many memories of childhood. And nothing was more relaxing than the singing of the bright red cardinals every morning as I enjoyed coffee on my front porch. It would seem the brave deer knew they were protected from hunters in our gated community when they roamed among the Dogwood and Crape Myrtle trees. I took many pictures of them when I first moved to my country home.  They would come within ten feet of my front porch to enjoy the fresh new grass of spring. Only doe and fawns could be seen. Most of the time bucks stayed hidden.
One Saturday afternoon a doe stood just inches from my porch with her head down. I opened the door and in a flash she dashed across my driveway, bounding toward the woods. At that moment I glanced down and couldn't believe my eyes. In my flowerbed, almost hidden by monkey grass, lay a newborn fawn covered with tiny white spots. Its shoulders were still tucked beneath its helpless body.
I didn't touch it, but watched it all day, taking pictures as it finally stood and gained strength in its legs. The heat from the May sun forced the fawn to walk upon my flat concrete porch and curl up in the shade. It stayed there and didn't move an inch for six hours. At dusk when I checked again it wasn't there. With care, I stepped out onto the porch and waited for my eyes to adjust to the twilight. In the middle of the lawn, the mother urged her fawn along, as she licked and fed it until they disappeared into the darkness. In the weeks and months to come, I took more pictures of them as they returned with friends to graze on my lawn.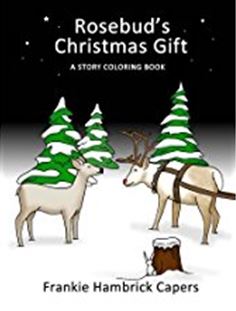 One morning in early December, as I sat by my window enjoying the new fallen snow, a few deer walked past. One stopped and looked at me. I started to think about the little fawn I had babysat that day in May, and from that came my latest children's story-coloring book, "Rosebud's Christmas Gift". Deer love to eat roses, so to keep one rose around, the fawn was named Rosebud. She grew to be a beautiful doe. Christmas was approaching soon and on Christmas Eve she received a wonderful gift she would always remember.
Your children or young friends and neighbors will love discovering Rosebud's gift as they read about her and color the pages at the same time.
"Rosebud's Christmas Gift", released in 2017
One spring a fawn was born in a flowerbed. Deer eat all the roses, so to keep one rose around she was named Rosebud. Her mother left her there, but returned for her at dusk. She grew to be a beautiful doe. The following Christmas Eve, she received a gift she would always remember.
You can get more details, and purchase the book at:  https://tinyurl.com/ya69nv3l
And please leave your comment on how some event sparked your book.