Today's guest is Ada Brownell, author of six books and hundreds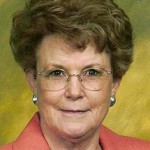 of stories and articles. When she sat down to write her latest book, The Peach Blossom Rancher, she drew from her experiences growing up in Colorado's Peach Country near Grand Junction, picking peaches and working in a packing shed. In addition, she uses some of what she learned as a journalist on her beat covering a mental hospital, a former asylum, for The Pueblo Chieftain.
Now retired, Ada Brownell blogs and writes with Stick-to-Your-Soul Encouragement. She is the author of six other books and hundreds of stories and articles in Christian publications. She now lives in Missouri, a beautiful state except for tornadoes and chiggers.
Attacked!
 By Ada Brownell
I knew better than allow the crowd to thin before my teenage daughter and I left the Andre Crouch concert in Downtown Denver. But Carolyn, a musician with perfect pitch who played Andre's songs and loved his music, wanted his autograph.
The line to get to the singer squashed against the stage. So many came Andre gave up signing before Carolyn got the autograph. Outside, the crowd thinned to a trickle. Streetlights valiantly tried to penetrate the darkness, casting an eerie glow.
A few folks jostled down the sidewalk as we headed for the car. One small man meandered through the pedestrians toward us, crouched as he moved. I took my purse from my shoulder, put it in front of me and wrapped my arms through the strap.
The little man came closer and spat at us. Then he ran and jumped on me like a monkey, his arms and legs circling me. He held my head and arms tight against his chest, but I didn't feel strength I'd expect from a man.
He's just trying to scare me. But then I felt him trying to throw me to the sidewalk.
Carolyn screamed. As a singer she could reach a high C on pitch without even exerting herself and her chilling cries woke me up. I'd read if a man attacks you, fight and fight dirty.
I pulled one hand free, reached up, scraped off his glasses, and went for his eyes. Carolyn told me later she struck his back with her fists.
He let go, but stood staring, hands above him ready to jump me again.
"Jesus, help us!" I screamed. The sound echoed among the tall buildings, concrete and pavement.
The assailant looked the direction we had been going. A man with his suit coat flapping ran toward us.
The assaulter scurried the other direction and disappeared.
Carolyn and I, panting, took off the other way. We didn't meet the man in the flapping suit coat.
"There's…a…police station across the street," Carolyn huffed. "Do you want to go there?"
"Yes!" I answered. I couldn't read the sign. My glasses were gone.
We walked in the door and collapsed against the short dividing wall, gasping.
"May I help you?" the officer at the desk calmly asked.
Carolyn had to tell most of it. I could barely speak. She described the attacker and two officers hurried outside. Soon they walked back with a person between them.
"You caught him!" I said, thankful.
"Yes, but it's a her not a him," one policeman explained, as he held her in cuffs. "We found her down by the river under the bridge. She's a psycho we're run into before. Do you want to press charges?"
"Yes," I answered. "I don't want what she did to us to happen to anyone else."
It wasn't over. Not long before Halloween I received a disturbing call. It was her.
"Drop the charges," she said. "I'm getting tired of being laid up in this jail."
Panic surged. How on earth did she get my phone number?
"Why did you attack me?" I asked.
"I kept passing all these people high on God, and I had to do something."
"Why were you dressed like a man?"
"Oh, I work for Wendy's and I had to empty the trash. Do I hear children in the background? Are you going to drop the charges?"
"Sorry. I don't want you attacking people."
"Drop the charges!" The dial tone buzzed.
At night I feared opening our door. If she knew my name and phone number, she'd know my address.
The District Attorney phoned a few weeks later.
"If she goes into counseling and pays for your glasses and the doctor's appointment will you drop the charges?"
I dropped the charges, but that wasn't the end.
One day two or three years later the Denver District Attorney called me at our new address in Pueblo. "We have a murder case and might need you to testify about what this woman did to you."
I'd never heard such a gruesome story. The gal had been living with an ex-con, crippled and in a wheelchair. Another man lived with them, too, and his body parts were strung in dumpsters all over a housing project. The head was in the refrigerator; the hands found at the airport in the suitcase of the fleeing ex-con.
I followed the story in The Denver Post.
When the case went to trial, the gal who attacked me pleaded the Fifth Amendment numerous times. As far as I know, she was never convicted. I was not asked to testify.
I still have questions. Was the man who caused the gal to turn and run an angel?  Was my attacker demon possessed?
Only God knows, and I can live with that.
Here is a short blurb on The Peach Blossom Rancher.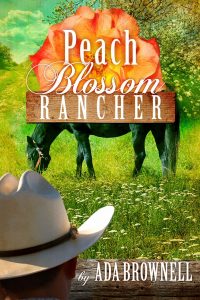 A handsome young man with a ranch in ruin and a brilliant doctor who is confined to an insane asylum because of one seizure. Yet their lives intersect. How will they achieve their dreams?
John Lincoln Parks yearns for a wife to help make the ranch all it should be after his uncle, a judge, ravaged it before he was murdered. John has his eye on his sister Jenny's elegant matron of honor, Valerie MacDougal, a young widow. But Valerie, a law school graduate, returns to Boston to live since her little son was born. John and Valerie write, he's kissed her a few times, but while in Boston Valerie and one of her father's law partners try to get three patients wrongfully judged as insane out of the Boston asylum.
Will John marry Valerie or Edwina Jorgenson, the feisty rancher-neighbor who has been in love with John since they were in grade school? Edwina's father is in a wheelchair and she's taking care of their ranch. John tries to help and protect this neighbor who has a Peeping Tom whose bootprints are like the person's who dumped a body in John's barn. But John and Edwina fuss at one another constantly. Will John even marry, or be hanged for the murder?
Ada Brownell's latest historical suspense/romance, Peach Blossom Rancher, is on sale via a Kindle Countdown.  It starts on Oct. 19 at 8 a.m. PDT for only $0.99 and will slowly rise until reaching $3.99 at 8 a.m. PDT on Oct. 24.  Click  here for a bargain: http://ow.ly/4ETL302QdhW