Today's guest is award-winning author Mary L. Hamilton. She grew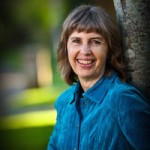 up in a youth camp in Wisconsin and a series of her books use that setting. Some of the people who passed through might recognize some of the events in her books.  She talks about one such incident in today's blog. Mary is a member of ACFW, CAN, and the Texas Association of Authors. She and her husband live in Texas.
If you're old enough, you may remember that fifty years ago this summer, our country endured a summer of race riots. A total of 159 riots broke out in Chicago, Buffalo, Atlanta, Detroit and other cities. Today's unrest often reminds me of those days, and brings back memories of that summer when the country's turmoil infected even the Bible camp where I lived.
Most of the time, living at a youth camp where my dad was the director was like living at Disneyland. I lived where other people came for vacation. It was a fun, mostly sheltered environment for a kid to grow up in. But I remember that summer of 1967 for the alien feeling of tension that permeated the atmosphere around camp. At 11, I didn't understand much of the current news. I didn't understand why young black campers got up at every weekly talent show, one after another after another and each one singing his version of Otis Reddings' Sittin' On The Dock of the Bay. I do wondering why for the first time, I felt slightly afraid to walk across the campgrounds, even though at our camp, there had never been any distinction made between racial backgrounds of the campers. There were no separate facilities, no separate doors or drinking fountains. All were welcome to come and fellowship with the Lord and each other.
But one week, a young camper seemed determined to cause trouble. When the counselor asked my dad to get involved, Dad invited the young man into his office for a chat. While Dad tried to uncover the root of the boy's resentment and rebellion, the youngster jerked his thumb toward a picture of Christ on the wall. It was a drawing of Jesus, from the shoulders up, very popular at the time, and it portrayed the Savior with strong Caucasian features.
The boy demanded to know why he should honor a white Jesus, and asked why nearly all pictures of Jesus showed him as being white. Dad agreed that the historical Jesus very likely resembled the young man more than himself. He opened his desk drawer, pulled out a black permanent marker and offered it to the teen.
"You're welcome to change it, if you'd like."
It was years before any of us learned the reason for those black scribbles on Jesus' cheeks. But hopefully, that young teen learned God doesn't much care about outward appearances. He looks at what's in the heart. (1 Samuel 16:7)
In Speak No Evil, Book 2 of my Rustic Knoll Bible Camp series,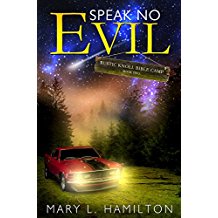 Pastor Zeke uses clever presentations that keep the campers' attention, all while asking repeatedly, "What's in your heart?" Taylor Dixon believes Zeke's messages are all aimed at others, until he confronts what's hiding in his own heart.
Here's a blurb for Speak No Evil.
Taylor Dixon knew having his younger sister, Marissa, at camp with him would be a pain, but he never expected the pain to go so deep.
At 15, Taylor wants nothing more than to get his drivers license. But Dad says he must prove he's responsible by staying out of trouble. Marissa's adventurous spirit is what usually lands him in trouble, but she's the only one who believes in his dreams.
Taylor returns to Rustic Knoll Bible Camp expecting the usual sermons, softball and swimming. Instead, he discovers a vintage Mustang in the camp's machine shed, and the owner's invitation to help restore it fuels his dream of someday driving a race car. But Marissa falls for Taylor's snobbish cabin mate, and her thirst for excitement pulls Taylor into a rivalry of words and deeds that threatens to destroy not only Taylor's hopes of getting his license, but also his dreams for the future.
Can Taylor keep a lid on Marissa's antics? And will the message hidden in the old car's engine change his attitude before it's too late?
Speak No Evil can be found on Amazon at:  http://amzn.to/2tUFtEZ
.