Talented and prolific writer Jim Ainsworth has a book launch of two books at the same time.  (I said he was prolific.)  It will be from 5 to 8 p.m.  March 28 at the A&M-Commerce (Texas) Alumni Center.  Because it is unusual to do two books at once, I've asked Jim to tell us the story behind the covers of the two books.  Very interesting.
Circle of Hurt – We worked diligently to come up with real photos that matched my description of the general store, the table and chairs, the ambiance of the place, but we just could not make it work.  I decided a shack might work, with wooden boards as the background.
The real picker shack was clearly in my mind, but it is long gone. My wife, Jan, suggested we drive around and look at cabins, shacks. As we drove by my cousin Marion's cabin, Jan pulled over.
"What about that one?"
"That cabin is only a few years old. The picker shack would have been maybe a hundred years old when the novel takes place."
Jan smiled. "Yes, but wasn't this one built to look old?"
She was right. Marion's cabin was a cross between the picker shack in the book and Tee Jessup's rented farmhouse. It could serve as either. And Marion would be pleased.
Sure enough, the table where we had weekly poker games looked ready for players. I realized that this setting, the old jukebox and a few other things might have partially inspired the scenes inside the general store described in the book.
After what seemed dozens of shots, I turned and saw Jan with her camera inches from the wall, snapping more photos.
I was puzzled. "What are you doing?"
She kept on clicking. "You said you wanted boards for the background, didn't you?"
Days later, she showed me her concept, saying, "I feel as if I'm on the inside of the cozy cabin stealing a look at the story that is taking place outside." That worked for me.
She and Vivian Freeman got together on the concept and colors and the rope and that's how the cover of Circle of Hurt came to be.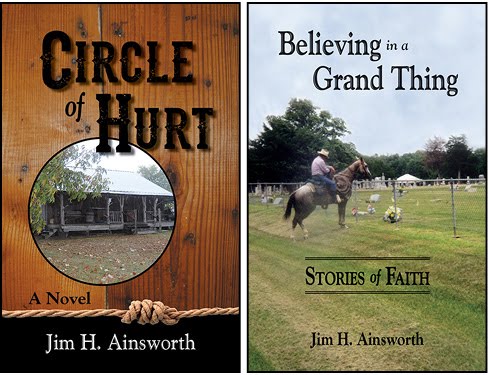 Believing in a Grand Thing – My original idea for the cover was a cowboy or western scene on the front—maybe a kneeling cowboy with a cross in the background. But we see of lot of those in yards all around. We tried a few photos in public domain, but the lights just did not come on for me.
Something about the way the cowboys (or models) sat their horses; or the way they put their boots in the stirrups; or the way they held the reins; or the way they wore their hats always bothered me. Something just wasn't right and I couldn't express what.
Again, my wife Jan came through. "Do you still have that shot of Marion on his horse at his daddy's grave?" Marion was a close cousin of mine.
The photo was taken on the next to last day of our wagon and horseback trip across Texas that I chronicled in Biscuits Across the Brazos. We were almost home, coming to the end of our fourteen day, 325 mile journey when it was taken.
I saw Marion lope ahead as we neared Shiloh Cemetery and knew where he was going. When he stopped at his father's grave, I pulled a throwaway camera I had bought on the trail out of my saddlebags and took the shot. I knew it was a special moment, but never imagined it would one day be on the cover of a book. Of course, it is also inside Biscuits Across the Brazos.
If you look closely, you will see a slight hazy glow around Marion and his horse's back legs. Unintended, but I like that a lot. I am certain Marion would, too.
Marion's mom now lies beside his father and Marion is laid to rest a few feet away.
Try to visit the launch party.  There you can ask Jim Ainsworth questions about the books, the covers, or anything, for that matter.  I highly recommend it as a pleasant, fun, informative trip.