Elaine Faber is a member of Sisters in Crime, Inspire Christian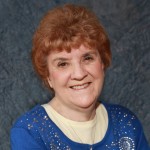 Writers, and Cat Writers Association. She lives in Northern California with her husband and three housecats. She volunteers at the American Cancer Society Discovery Shop in Elk Grove, CA.
Elaine has written poetry and short stories since childhood. She has completed six novels. Multiple short stories are published in magazines, on-line weekly magazines and in thirteen short story collections (anthologies). She writes cozy mysteries and humorous mysteries.
Today, she talks about mixing history into fiction novels.
Great care must be taken when mixing fiction with historical events. An author must never change history, but where's the harm in tossing your character into the action with our plots? Example: Imagine if your fictional character lived next door to Benjamin Franklin and loaned him a kite one stormy night? Or during the Revolutionary War, your character sold his horse to Paul Revere. Our imaginary character doesn't discover electricity, nor warn of imminent British attack, but the kite and the horse came from somewhere, right? I'm being sarcastic, of course, but you get the idea. It's called literary license
My latest WWII era humorous mystery/adventure, Mrs. Odboddy – Undercover Courier is hot off the press this week. Mrs. Odboddy, an eccentric elderly woman fights the war from the home front. She is determined to thwart conspiracies and expose Nazi spies and in her bumbling way, does a pretty good job of it.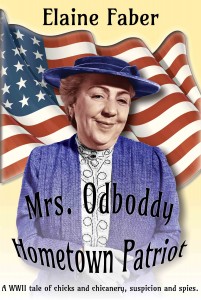 In Mrs. Odboddy Hometown Patriot, Agnes spots a Japanese air balloon bomb while manning a watch tower on the beach. She uncovers a ration book conspiracy and becomes romantically involved with an FBI agent searching for missing Hawaiian funds. And she meets Mrs. Roosevelt. As she weaves through historical facts, she changes nothing. Who's to say it couldn't happen that way?
In the just published sequel, Mrs. Odboddy, Undercover Courier, Agnes travels by train to Washington DC to join Mrs. Roosevelt on her Pacific Island tour. Agnes is asked to hand-carry a package to President Roosevelt. They must be secret war document! (Could happen!) She expects Nazi agents to attempt to steal her package. (It's possible.) Of course, along the way, she also meets some intriguing characters who hinder as well as aid her in her mission.
Agnes befriends David and Samuel, two black soldiers bound for the Tuskegee Air Base, where they will be trained with the first all-Black fighting pilot squadron. And here is a bit of history about the Tuskegee soldiers.
Due to the many black men who wanted to volunteer, and the extreme loss of pilots in battle, it became expedient to set up a program to train Black fighter pilots, bombardiers and air support staff. A number of Black men with higher education and pre-war flying experience were selected to train as fighter pilots, but in a segregated squadron.
The most successful all Black squadron was the 99th squadron. They began to fly bombing missions in the spring of 1943.
Nine hundred ninety two Black pilots were trained in Tuskegee from 1941-1946. They were credited with 1578 combat missions, 179 bomber escort missions, destroyed 112 enemy aircraft in the air, and another 150 on the ground. Nine hundred fifty rail cars tracks and motor vehicles were destroyed. One destroyer was put out of action. Forty boats and barges were destroyed. Multiple citations were awarded along with many silver, bronze, air medals and 8 purple hearts.
Segregation of the troops ended in 1945.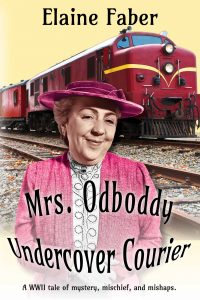 When Agnes finally gets to Washington to complete her mission, she faces trials that challenge her perception as a home front warrior and the scourge of the underworld. Mrs. Odboddy – Undercover Courier will amaze and amuse all the way from California to Washington, D.C.
Available at Amazon for $3.99 (e-book).
Elaine's website is:  http://www.mindcandymysteries.com
Email your questions or comments to Elaine.Faber@mindcandymysteries.com   or leave a comment here.  Thanks.