Today, our guest is Janet Sketchley, a Canadian writer of suspense and redemption. She has also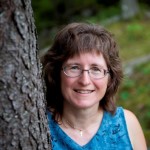 had published over one hundred articles. She likes Formula 1 Racing, adventure stories and tea. She has also generously agreed to give a free copy of her latest book to one commenter, chosen at random. But for now, let's hear why you should never annoy the novelist. Here's Janet.
Almost twenty years ago, I was an at-home mom with young children. We did errands together, bought groceries. Took the car for repairs. Since at least one of the boys still used a child safety seat in the car, this meant waiting while the work was done.
I'd had bad experiences with the local dealership, but when they contacted me about a recall, I ventured in.
We must have been in the waiting room for an hour, reading stories and snacking on cookies, when the guy at the desk called my name. "I'm sorry, your vehicle's not under warranty anymore. The mileage is too high."
I looked at him. "Your service department called me. They couldn't do something like check the odometer when I first arrived?"
His smile didn't do anything to defuse my frustration. "Sorry."
Most days I can wait with the best of them, but I don't do well when I discover I've waited in the wrong line, or in this case, waited for nothing. I'd been on edge emotionally that week, and a sudden sense of injustice turned this quiet Canadian into a customer-service nightmare.
I may have yelled. May even have cried, I'm not sure. I'm rarely tempted to swear, but right then it took a conscious effort to use only clean words.
Management tried to shoo me into a quiet room, out of the main waiting area, but I wouldn't budge. I'd seen them do that with a businessman when I arrived. How many unhappy customers did these people have today?
As soon as I had my keys in hand, I gathered my children and left. Fuming.
This particular dealership wasn't far from home. Many times the traffic lights would stop me directly in front of it. Every time I saw the building, resentment bubbled and I chose to let it go. It didn't go far.
I was writing a novel about forgiveness, and here I had this experience I couldn't put behind me. It wasn't even an intentional hurt, just a poorly-run business where customers fell through the cracks.
My second novel gave me a chance at catharsis. One of the characters, Joey, had some things in his past that he'd rather forget. Including an impaired driving charge that ruined his career and landed him in jail.
Coming home from a party, with his boss' daughter in the passenger seat, Joey decided to plant his fancy sports car through the dealer's showroom window – "returning it for poor service."
Yes, the thought had crossed my mind. No, I'd never do it. And no, I've never driven a sports car. But Joey gave me the chance to entertain the thought vicariously. Not in the "I wish it would happen" way, but in an offbeat, darkish sort of amusement that I can't explain.
Something shifted. I still made a conscious choice to forgive, whenever I stopped at the lights facing the building. But now I had a little grin on my face, and my private joke took the barb out of my old wound. Eventually, I could drive by with a smile and no hurt feelings at all.
For the fiction writers reading this post, I'm curious: what's something from your own life that has crept into your stories? Have you done this sort of stress-release intentionally?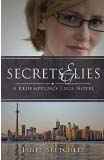 For the readers (including writers): if you'd like to see how Joey's past comes back to cause trouble in his present, I'm giving away one copy of my Christian romantic suspense, Secrets and Lies. It's really Carol's story, the single mom threatened by a drug lord, but Joey would very much like to be her friend – and more.
One commenter's name will be chosen at random to receive a copy of the book. Offer void where prohibited.
JIM:  Thanks, Janet.  Good story.  I saw a writer at the last conference who had on  a Tee that said, "Be nice, or you'll appear in my next novel."  I'll bet many of us have included a caricature of someone in our novel.  If you have a story to tell on that front, leave a comment.  AND, you'll be entered in the drawing for a free copy of Janet's Secrets and Lies.  Thanks.