Today, I have a guest post from Jennifer Slattery who writes soul-

stirring fiction for New Hope Publishers.  Her debut novel is Beyond I Do.  She tells writers about one thing important to success.
This one thing has the capacity to set every writer on edge. Though they search for, it remains elusive, because it must come from within themselves. And yet, it must come, for without it, according to the publishing powers that be, the writer's career could derail. Fast.
 And yet this thing, this very necessary thing can't be forced. Somehow it must arise naturally, much like the writer's voice. It's similar to their voice, but it's different. It's deeper and more holistic.
 In essence, this thing makes up the writer, and it's more than genre.
 It's their brand.
 As of late, many writers have argued that having a clearly defined brand is no longer necessary. Readers are eclectic, they say. Why should I box myself into writing one type of story? If I wrote more, won't I reach a wider audience?
 So, they diversify, dabbling in romance, a bit in time travel, then taking a side trail into an alternate history dystopian.
 But rather than initiate a debate on the value or folly of such an action, (as such debates, quite frankly, have been vastly and repeatedly discussed), I wanted to perhaps expand the idea of brand.
 Yes, brand is genre, but as I said, it's so much more. It comprises core values that are so ingrained in an author, they come out in all they write. These elements quickly become obvious to others, though the writer himself might be unaware of them entirely.  Or perhaps they've even worried about them a time or two, wondering if their books were becoming all too similar. (Because secretly, all of us writers feel each book is the last creative spurt we'll ever have.)
 This was the case with me. Though it took me a while to notice, certain themes popped up in every novel:
 Outreach. (Ok, I knew this one. This is always a major plot line.)
Romance (Yeah, knew this one, too. I know I'm not proving my point yet, but be patient.)

Strained family relationships (I saw this and got a little worried. Seriously, does every mother and daughter duo have to battle it out between the pages of my books?

Parallel plot lines (This one surprised me. I'm not even sure I know what it means!)
All this to say, relax. Your brand will emerge, if you let if. So don't force it. Just pour yourself onto the page, day after day. And never write something your heart isn't in, because that will only hurt and confuse your brand.
 In other words, be true to you and your calling. The rest will follow.
JIM:  Good advice.  You can find out more about Jennifer and her books at: 
http://www.amazon.com/Jennifer-Slattery/e/B00JKQ4ZTW/ref=dp_byline_cont_book_1
You can visit with Jennifer online at JenniferSlatteryLivesOutLoud. 
And, here's a blurb on Beyond I Do.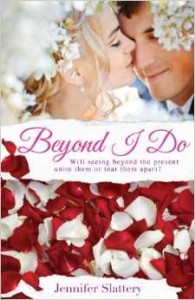 Ainsley Meadows, raised by a hedonist mother, who cycles through jobs and relationships like wrapping paper on Christmas morning, falls into a predictable and safe relationship with Richard, a self-absorbed socialite psychiatrist. But as her wedding nears, a battered woman and her child spark a long-forgotten dream and ignite a hidden passion. One that threatens to change everything, including her fiancé. To embrace God's best and find true love, this security-seeking bride must follow God with reckless abandon and realize that marriage goes Beyond I Do.
<"font-size: medium;"> Click
here to read a free, 36-page excerpt.