Today's guest is Anne Schroeder. She lives in Southern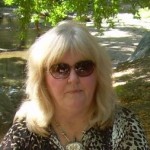 Oregon with her husband of 45 years.  She writes about the West in short stories, essays and two memoirs. She is President-Elect of Women Writing the West.
Bring on the Ladies
 Many of us grew up reading Westerns—Zane Grey, Louis L'Amour and a slew of other grand, free-spirited writers who formed our impressions about the man's way. Women read them, but the women in these stories were often cardboard characters designed to accessorize their men. The cowboy's values were so much a part of him that he didn't need to change. He rode off into the sunset and left the woman (read secondary character) behind.
 The women's movement challenged the narrow stereotyping of the traditional Western. Women wanted stories that were more realistic and appropriate to the way they knew their grandmothers to be. We wanted Zane Grey to flip the stories and write about the women, but it became obvious that if women were going to enjoy gritty western stories, they were going to have to write them themselves. An organization, Women Writing the West, was born when a few women writers founded an organization to promote the Western experience.
 I am a long-time member and President-Elect of this organization, but more importantly, I write historical novels that seek to portray pioneer women as three-dimensional, historically relevant contributors to the Western experience, whether native, white, colored, Western bred or immigrant.    
 I love creating fringe characters, especially gritty, imperfect women who are dealing with trials in their lives. My appreciation for the richness of a woman's silent struggles began when I was a little girl watching my great–grandmother, who lived three farms down. I remember wondering, what does she think about—and cry about when no one is around to see? She was, by all accounts, a stoic and hardworking woman. But was her stoicism a matter of good breeding, honor, grit, stubbornness, bitterness or self-sacrifice? Was it an act to cover her jealousy, hurt, frustration, anger at the injustice of her sex? The drunkenness of her husband?
 Was she bitter over the plainness of her face compared to her sister, who managed to marry better because she was prettier? That she was hard working was an understatement for the times. She had four children under the age of seven, including a set of twins. She chipped the ice off the trough, carried in water, stoked the fire and baked the biscuits. She worked in a tiny sweat-shop of a kitchen stoking a fire and cooking for a half-dozen ranch hands. She didn't talk to other women for days on end. So what did she think about while she worked?
 I consider pioneer women as sisters and friends. They dressed and acted to reflect the times, but their hearts were the same as mine, capable of meanness and possessing the capacity to change.
 Research is key to writing authentic historical Western. Romance is important, but it needs to be appropriate to appeal to male readers, too. At times I'm surprised, tickled and flummoxed by my ladies' actions. Writing great female characters is like reading the book for myself—they reveal themselves with humor, wit, bravado, grit and romance.  Writing gritty historical Westerns is challenging. A storyteller throws tension into every page. A great heroine takes it on the chin and keeps going. Details of setting, climate, economic and social events create a stage for the characters to emerge and draw us into the scene.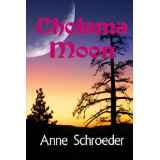 My passion for California history has drawn me into an adventure I call the Central Coast Series. Book #1, Cholama Moon was just released in paperback and e-book through Oak Tree Press. The second book, Maria Ines, will be released in late 2014. If you're interested in learning more, you can read the first few pages at Amazon http://www.amazon.com/Cholama-Moon-Anne-Schroeder/dp/1610091299  . After that you can make up your own mind. Thank you for visiting. And live your life in a way that creates great stories for your grandchildren because that's what your grandparents did for you.