Today, we're visiting with a dynamo—a dedicated teacher, prolific author,

artist, playwright, director, wife and mother. Tracy Krauss is all of these. Her first two novels, And the Beat Goes On and My Mother the Man-Eater, were both nominated for the Indie Excellence Book Awards for religious fiction in 2011.  And her third novel, Play It Again, launched this week.  Welcome, Tracy Krauss.
You've published the sequel before the – what — prequel? That's a different path than many of us have followed. How did that come about, and are you happy with this arrangement?
Tracy:  It was my publisher's decision. Strange, I know, but it has actually garnered quite a bit of interest in both books, as it turns out. People who love PLAY IT AGAIN now want to read AND THE BEAT GOES ON and vice versa.
JRC: Okay. With that background, tell us a little about And the Beat Goes On.
Tracy: This was the first book. An archeologist finds evidence for creation and then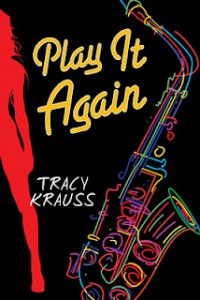 has to fight to make it public as a conspiracy of silence develops around the find. There is a lot of intrigue, murder and mayhem, as well as a touch of romance. The archeologist, Mark Graham, is a child in the first book (PLAY IT AGAIN) which I launched this week, so that is where the tie in happens. As far as the story lines go, they are quite independent, so no worries there.
JRC:    And where does My Mother the Man Eater fit into all this?
Tracy:  This is the story of a forty something 'cougar' out to find fulfillment through her relationships with men. Her ex, a nasty con man just out of prison, will stop at nothing to ruin her life. Besides the 'murder and mayhem' part, this book also has a lot of humor in it, since her juggling act with multiple boyfriends backfires when each one falls for one of her own grown daughters. It was a lot of fun to write and is totally separate from the other two books.
JRC:  Well, you've certainly got our interest on all of these.  But let me switch subjects. You list about 200 blogs you follow.  Is this your full time job?  When do you have time to grade English papers?
Tracy:  LOL – I don't waste a lot of time and I'm pretty much busy twenty-four-seven. I do spend a fair amount of time online promoting, blogging etc, but I've just learned to prioritize and I try to stay organized.
JRC:    And with your busy schedule, teaching, directing  (I would think that would eat into your "writing time"), and art, when do you find time to write?
Tracy:  I tend to write in spurts, like during my spring break or summer vacation. Perhaps I'm driven … In truth, the creative process is what gives me energy, so when I'm preparing for a drama production, for instance, I go full tilt on that. Then when I get into writing mode, or painting mode, or whatever else mode, I just focus on it.
JRC:   Do you outline? Do you make up character bios?
Absolutely to both questions. My character bios tend to be quite in depth but I feel the better I know them the better I am able to make them react to situations in believable ways. I also like to outline once I get a story idea, but more often than not this changes as the story develops. It helps me to have a framework, though, even if I stray from it.
JRC:  I couldn't agree more. That's pretty much the path I follow. One last question.  What's the best advice you have for the new writers?
Tracy:  Seek outside critique partners. This is essential. You get very emotionally attached to your own writing and it's hard to see the flaws. It can be a wakeup call at first, and it can hurt, too, but in the end, your writing will be much better for it.
JRC:  Thanks for that very good advice.  And for this interview. I for one will take away from it the need to prioritize if you have many things going.  For the rest of you, check out Tracy's website:tracykraussexpressionexpress.com.     And you can find her books on Amazon.com.  Sounds like she has three good choices waiting for you. But before you do that, leave her a comment here.  It will brighten her day. Thanks.