But first, today's paraprosdokian
I'm great at multi-tasking–I can waste time, be unproductive, and procrastinate all at once.  
In September, Pittsburgh, PA became the first U.S. city to have driverless cars used to transport people from one place to another – a service provided by Uber.  (Just one month earlier, nuTonomy offered such a service in Singapore.) Uber, is the world's largest taxi company. Pittsburgh is significant because it is the home of Carnegie Mellon University, the leading university in robotics. Both the head of the Uber's driverless auto endeavor and the head of Google's division for driverless cars (considered the leader in the field) came from the CMU robotics department.
So, a customers in Pittsburgh can call Uber and order a driverless car to come to wherever they are and take them to any other place in the area. For the present, there will be a qualified, human driver sitting in the driver's seat, ready to take control at any moment should the need arise. For the early part of this experiment, there will also be a second person in the front seat who will have a computer and will take notes on every aspect of the trip.
There is also a computer tablet in the back seat where the customer can offer any comments on the experience.
Initially, Uber will use modified Volvo XC90 sport-utilities outfitted with dozens of sensors, including cameras, lasers, radar, and GPS receivers. And while GPS is generally accurate to within ten feet, Uber systems strive for accuracy down to an inch.
Many experts in the autonomous car arena claim that self-driving cars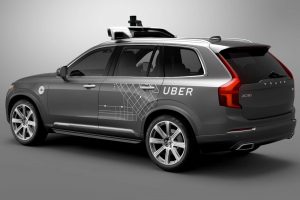 will ultimately save lives. For now, the efforts in this area are under close scrutiny. Last July, a driver using Tesla's Autopilot service (not driverless, but driver assisted) was killed when the car collided with a tractor-trailer. The crash is still under investigation by the National Highway Traffic Safety Administration. Google has seen a few minor accidents. At present, Google limits its cars to a maximum of 25 miles per hour. Uber has not sustained any accidents since road testing in Pittsburg began in May.
Uber is so committed to this endeavor it  is acquiring Otto, a company working on driverless trucks And it has plans to open two additional R&D centers.
Ford is also working right now to produce cars that would meet Uber's demands. In a talk several months ago, the head of General Motors predicted they would have completely autonomous cars in production by 2021.
Before too many years, you will be able to order a car to pick you up and drive you to your agent's office while you put the finishing touches on your manuscript. The car will drop you at the door and go away. When you have signed the contract and are ready to leave, another call will bring a car to the building and take you home.
Last week, I wrote about our robotic vacuum – that actually works. Now, if they would only make a robot that will make the bed and clean the bathroom, we'd be set.
Life just gets better.
James Callan, October 2016