Callan's latest book, released in 2015, is How to Write Great Dialog. Second Edition
Here are comments from some writing professionals.
"Callan's easy to understand explanations and variety of exercises make this how-to perfect for the novice, as well as, the seasoned writer." - Michelle J.G. Perin, PSWA Writing Competition Chair, Board Member.
"A REALLY HELPFUL book...will teach you 'everything you need to know about writing dialog' and along with very practical advice..." - Arlene Uslander, author, award-winning journalistic professional editor
"As an editor, I wish all my clients would read and apply the advice in this book. James Callan describes the writing of dialog in simple terms...easy to grasp and apply. He even includes exercises...Highly recommended ..." - Lorna Collins, multi-published author and content editor
"This book should be in every aspiring writer's library...Writing believable dialog that adds to the storytelling and lets the reader know something about the character is what makes or breaks a novel. Excellent advice." - F. M. Meredith, author of Murder in the Worst Degree.
How to Write Great Dialog is available on Amazon by clicking here.
---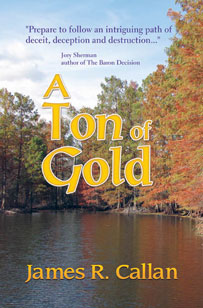 Here's what the Midwest Book Review had to say about A Ton of Gold
"A Ton Of Gold" is one of those riveting novels that grabs the reader's total attention from beginning to end. A deftly woven story populated with memorable characters, A Ton Of Gold is a superbly crafted and entertaining mystery and documents author James R. Callan as a gifted writer of the first rank. A Ton Of Gold is highly recommended for personal reading lists and community library Mystery/Suspense collections."
A Ton of Gold looks at how an old folk tale can affect the lives of innocent people today. Crystal Moore stands on the brink of losing everything-her only family, her self esteem and her career.
Because of a long-forgotten folktale, murders, arson, kidnapping, and firebombs besiege Crystal. And while she struggles to sort out the mystery, the man who nearly destroyed her emotionally reappears. This time, he can end her career.
Crystal will need all the help she can get from a former bull rider, her street-wise housemate and Crystal's feisty grandmother.
A Ton of Gold is available at bookstores, and on Amazon in both print and Kindle editions. Click here for paperback, or here for Kindle.
---
Character: The Heartbeat of the Novel is a non-fiction book which will help a writer improve the development of characters for a novel. With many examples and exercises, it guides the reader along the path to creating memorable characters.
The second edition, released in February, 2015, is available on Amazon by clicking here.
---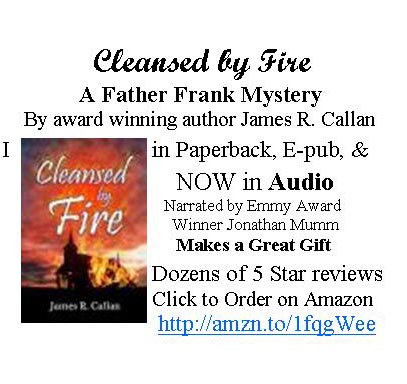 Cleansed By Fire, was released in both paperback and Kindle editions, and now in audio. You can see the cover here, but on Amazon, you can even look inside and read a portion. Likewise, at both Audible and Amazon, you can hear a chapter of the audio book version. All three editions contain the exact same text.

Cleansed by Fire

is a murder mystery, and is propelled by church burnings. A small east Texas town is in turmoil as two churches are burned by arsonists within a ten day period. Father Frank learns that another church will be torched, but he hears this in the confessional, so he can't tell anybody, not even the police. He knows he can't sit still and let another church burn, so he has to try to find out who is behind this, why are they doing it, and which church is in danger.
He finds there are a number of people he can consider as suspects: the new man in town who seems to be connected to the drug scene; the young man, obviously into drugs; the burly man who burns a paper cross to taunt Father Frank and suggests maybe the churches deserve what they got, and others.
And as he investigates, he becomes a target himself. Can he save another church? Can he even keep himself alive?
Here is an independent review of Cleansed by Fire that ran in a Los Angeles area newspaper.
Review by John Brantingham:
Writing from a priest's point of view is difficult. Most people do so badly. So often, the writer descends into cliche. Priests in literature are often either so good that they are uninteresting or so bad that they are unbelievable. A few people have written priests well.
Graham Greene wrote priests well. Then again, he wrote everything well.
Gerald Locklin wrote priests well.
And James R. Callan writes priests well in his novel Cleansed by Fire.
Father Frank is Callan's protagonist. He's a priest having to deal with the new realities of a small town. Corrupting influences are moving in and trying to destroy the peace that he's built with his parishioners. Kids are being seduced by drugs. The adults of his parish don't believe in themselves. Worst of all, someone is burning down the local Baptist churches. It's up to Father Frank to go out and stop the destruction of his small community.
You don't have to be a Catholic to like this novel because Callan's protagonist is clearly and fully written. Unlike so many badly written priests, Father Frank is a real person with real faults. He struggles with his faith and doubts.
When someone pushes him, he wants to fight, and one of the levels of tension in this well-written book is Father Frank's personal struggle to remain faithful to the principles that he loves. It isn't easy for him, and that makes the book so interesting to read. One of the themes I really get tired of is priests struggling with sexual identity. That's not Father Frank's problem. He struggles with the violence of his nature, and we see him running headlong into dangerous situations again and again only to arrive unsure of what to do.
I really enjoyed Cleansed by Fire, and I'm glad it's part of a series. I want to watch Father Frank grow as all great characters do.
To read Chapter 1, just click here.

Cleansed by Fire is available from Amazon in paperback ro Kindle Editions by clicking here,
For a one minute trailer on Cleansed by Fire, click here. Or, see a totally different trailer on YouTube by clicking here.

---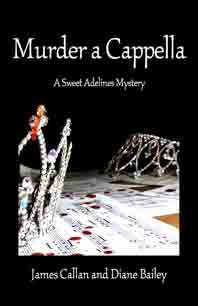 Murder a Cappella was a joint effort by James Callan and his youngest daughter, multi-published Diane Bailey.
To see a book trailer on
Murder a Cappella, click here.
It's a mystery, set during the International Competition of the Sweet Adelines (women who sing barbershop harmony). James wrote this book with one of his daughters (Diane Bailey), who has sung with the Sweet Adelines. She is an accomplished writer with many books published, primarily non-fiction. Click here to visit her website.
One year, her chorus qualified for the International competition and finished in the top five. For some time James and Diane thought about writing a mystery set during the International competition. Finally, they did. And Murder a Cappella is the result.
Murder a Cappella is available at Amazon.com by clicking here.
Thanks for visiting the website of James R. Callan.
Please come back and visit. The site will be changing weekly. And feel free to send or leave your comments. Callan would love to hear from you.
Have a great 2015.