Today's guest blogger is John Lindermuth, author of sixteen novels,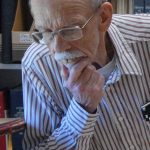 including eight in the Sticks Hetrick series.  John is a retired newspaper editor who now serves as librarian for the county historical society, assisting patrons with genealogy and research. He is a member of the International Thriller Writers and past vice-president of the Short Mystery Fiction Society.  Today, he talks about using the five senses to engage the reader.  And he previews The Battered Body, featuring Sylvester Tilghman, one of his most popular characters.
Are you using your senses?
We all perceive the world around us by the use of our senses–sight, sound, touch, smell and taste.
Utilizing these senses in your writing can convey the reader into the world you've created and make the journey into this place more convincing and memorable. But it's important to go beyond a mere description. Make it "real" by calling on your memories/experiences and expand on it with the help of metaphor and simile. Be creative.
As E. L. Doctorow, one of my favorite writers, put it, "Good writing is supposed to evoke sensation in the reader–not the fact that it is raining, but the feeling of being rained upon."
Opinion about the ranking of the senses varies. Most of us would probably rank sight and sound first. But Rudyard Kipling, for one, gave precedence to one less often considered. "Smells," he wrote, "are surer than sights or sounds to make your heart-strings crack." Kipling contended odor lingers longer in our memory than things we see or hear.
There's a writing cliche about "a dark and stormy night" and we're all familiar with the rule about not starting a story with weather. Yet, weather is an important feature in all of our lives. Everyone can relate to it and, used properly, weather can add to setting and mood in your story.
Weather has an important role in The Bartered Body, my latest mystery. A blizzard of epic proportion actually did occur in the eastern United States on the dates mentioned in the story. I hope I've employed my senses so readers will relate to Syl and Cyrus as they trudge through drifts and battle the biting wind while attempting to solve the mysteries facing them in this adventure.
Please leave a comment and tell us how you use the senses in a novel.  Or which is your favorite?  Do you ever think about using the sense of smell?  Thanks.
Here's a blurb for The Bartered Body:
Why would thieves steal the body of a dead woman?
That's the most challenging question yet to be faced by Sylvester Tilghman, the third of his family to serve as sheriff of Arahpot, Jordan County, Pennsylvania, in the waning days of the 19th century.
And it's not just any body but that of Mrs. Arbuckle, Nathan Zimmerman's late mother-in-law. Zimmerman is burgess of Arahpot and Tilghman's boss, which puts more than a little pressure on the sheriff to solve the crime in a hurry.
Syl's investigation is complicated by the arrival in town of a former flame who threatens his relationship with his sweetheart Lydia Longlow; clashes with his old enemy, former burgess McLean Ruppenthal; a string of armed robberies, and a record snowstorm that shuts down train traffic, cuts off telegraph service and freezes cattle in the fields.
It will take all of Syl's skills and the help of his deputy and friends to untangle the various threads and bring the criminals to justice.
Buy links: https://www.sunburypressstore.com/The-Bartered-Body-9781620067567.htm
https://www.barnesandnoble.com/w/books/1128291698?ean=9781620067567
Please leave us your thoughts on the use of the senses in a book.  Thanks.  jim