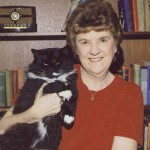 Today's guest blogger is Elaine Faber. She lives in northern California with her husband and multiple feline companions (naturally). She is a member of Sisters in Crime, California Cat Writers, and Inspire Christian Writers where she serves as an editor for their annual anthology. And, she's giving away a book to one of you who leaves a comment.
Pickles and Ice Cream? 
Where does an author get the inspiration for a fiction novel?

This was the first question I heard today from an attendee at an Author Reading Event. Every writer has a different answer because there is no one right answer.
Some authors include personal experiences. Some writers base their characters on friends, relatives or next door neighbors.  A gossip column or a newspaper article about a particular event might become the basis of a novel.
Many authors come up with a rough idea for a plot and characters, and then let their fingers do the walking and the characters tell their own story.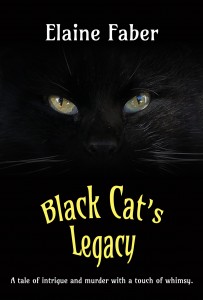 When I started Black Cat's Legacy, I remembered an anecdote my parents told about me burying my toys in the sand and then my dad had to find them. I remember thinking, 'what if a toddler buried something that showed up years later and was the clue to solving a murder?'
From that idea, I started Black Cat's Legacy, but what was the rest of the story? Before I knew it, Black Cat (Thumper) jumped into the story and took over. He became the catalyst of the 'tale', working behind the scenes with his ancestor's memories, to help solve the cold case murder in spite of the difficulty of people who 'couldn't see a clue even when he put it right under their inferior noses.' The plot did eventually involve a toddler burying something that played into the mystery, but only in a very minor way. Who knew?
So a kernel of an idea can spark a tale that tells itself once we begin to write. My characters speak to me and I'm OK with that. Sometimes I don't even know what's going to happen next until the words are on the page. I have to follow their lead until the scene plays out. Many authors report the same thing. When characters kidnap the storyline, they can take it into a completely different direction than we planned.
When your character makes a provocative or unpredictable move, it can be unnerving. You're staring at the computer screen wondering, 'what the heck just happened? How am I going to get him out this?'
That's usually when the mischievous character decides to take a vacation and leave you trying to resolve the muddle they just created. And your mind is blank and you've 'got nothin.'
Which leads us to the second most common question asked in an Author Reading Event.
What do you do when you get writer's block?

Again, there are as many answers as there are authors. But here is the best one I've ever heard.
In my novel, Black Cat and the Lethal Lawyer, at one point we had a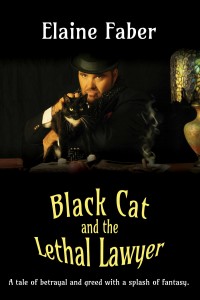 fire creeping toward the living room and a metal box falling off the mantle, knocking Brett unconscious.  Now what? How could Kimberlee save him? What happened next? So I asked myself, 'What's the worst thing that can happen?' Using that as a guideline, I conjured up several alternatives, picked one and ran with it.
Here's an example: Your character is frying bacon and the skillet catches fire. What happens next? 'What's the worst thing that can happen?' Maybe she pulls the fire extinguisher off the wall, but finds it empty…of course!  So she grabs her cellphone to call the fire department. Dead battery.
So she runs out the door, screaming, "Fire, fire."
A religious zealot is standing on the doorstep, handing out tracts. "You tell it, sister. Hell fire is for eternity."
… And so forth and so on. You get the idea. Look how easily my imagined skillet fire scene just got away from me. I hadn't planned anyone at the door.  I thought she'd just grab a fire extinguisher and put out the fire. As usual, my 30-second character took over, and I was wrong…. But with my characters, I'm used to them being in control.
***
How do you answer questions about story concepts and writer's block? Does anyone out there have another way to address these questions?
JIM:  Okay, guys.  She's posed two questions.  Anybody want to take a stab at answering one – or both?  Elaine will give a copy of one of her cat books to someone who leaves a comment.  I've read her Cat Legacy book and it's fun.  Might as well leave a comment and maybe win a book.
Here's a brief blurb on two of her books.
Black Cat's Legacy, a tale of intrigue and murder with a touch of whimsy. With the aid of his ancestors' memories, Thumper helps pursue a cold case murder.
Black Cat and the Lethal Lawyer, a tale of betrayal and greed with a splash of fantasy. Thumper accompanies his family to a horse ranch near the Mexico border where they confront wild horses, embezzling, false identities and attempted murder.
Ms. Faber's novels are available at Amazon.com. and on her personal website, www.mindcandymysteries.com