Before we stepped off the plane in Hobart, all we knew about Tasmania was that the Tasmanian Devil made its home there.
Tasmania is located about 150 miles across the Bass Strait from Melbourne, Australia.  To its west is the Indian Ocean and to its east is the Pacific Ocean.  It is about 225 miles from north to south and generally about 190 miles from east to west, and has a population of just over half a million.
The British settled it in 1803 and in the first 50 years, over 75,000 convicts were transported to Taz.  One of the first places we visited was Port Arthur, just 35 miles from Hobart, and site of one of the most famous prisons in Australia.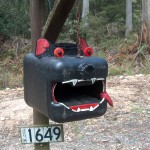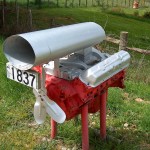 We then headed into the interior, a thinly populated, but gorgeous area.  On one forty mile stretch, the residents hold a contest each year to see who can make the most interesting mail boxes.  There were rocket ships, cartoon characters, tractors, animals – some quite large, other smaller, but every design interesting and different.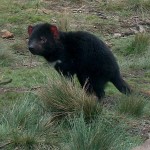 Beyond that, we found a preserve and research center for Tasmanian Devils.  Here we were told about the Devils and why they are now listed as an endangered species.  We were even allowed to pet one, but cautioned to keep our hands away from its head.  They have extremely strong jaws and can easily crush the leg bone of a kangaroo.  A finger would hardly be a challenge.
A relatively small island, Tasmania is the most mountainous state in Australia.  Mount Ossa is over a mile high.  These mountains spawn many rivers.  While we viewed Taz as more like the U.S., say, sixty years ago, that does not describe their production of electricity.  They generate all of their electricity needs by hydro plants on the rivers, and even sell a large amount of electricity to mainland Australia.  One river supports seven generating plants before the water reaches the ocean.
Quite by accident, we came across "The Wall in the Wilderness." Here, well-known Artist Greg Duncan is carving a stunning sculpture out of Huron pine.  We found the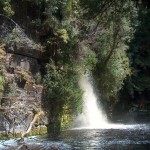 artist when we left the visitor's gallery to explore a back room.  He was working on another 3-D panel there and was gracious enough to visit with us and explain what he was attempting with this project.   When finished, the sculpture will portray Tasmanian history from the indigenous people to pioneers, to lumber men, farmers, miners, and hydro workers. It will stand ten feet high and 300 feet long.  At the time we visited, it was perhaps 150 feet long.  In fact, he said he was going to have to stop the carving and extend his studio to accommodate the rest of the wall.
We made our way to Strahan on the west coast and made arrangements to take a float plane into the wilderness of the southwest part of Tasmania. Over one third of the entire island of Taxmania lies in reserves here, and there are no roads or settlements in this area.
Earlene and I and the pilot took off and circled out over large fish farms in the Indian Ocean.  Then we headed in-land. It is truly a pristine wilderness, with inspiring, untouched forests, and the white water Franklin River.  After awhile, we were tracking another magnificent river, cutting between mist-covered mountains and dense rain-forest.  We began to descend into the thousand-foot deep Gordon River Gorge and slowly settled down on the river.
As the pilot taxied over to the bank, a small dock came into view.  He hopped out and tied the plane up and we deplaned.  A short walk through the rain-forest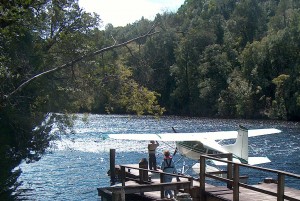 took us to a magnificent waterfall.  The only noise was the falling water. No boom-boxes, no cars, no people. Enchanting.  Eventually, we walked back to the dock, got in the plane, and the pilot – standing on the dock, untied the plane.  The swift current quickly began to sweep the plane away from the dock.  What we would do it the pilot didn't manage to get in before we drifted away from the dock?  Earlene could fly the plane, but could she take off from a rushing river?  But, he managed to catch a strut, swing on to the pontoon and climb into the cockpit.  Obviously, he'd done this before. It was a magical trip.
Our entire Tasmania visit was captivating.   If you get to Australia, allot ample time for Tasmania. We spent a week there, and would have enjoyed a month.
Feel free to "share" or "like" this page.  Thank you.
Over My Dead Body     http://amzn.to/1BmYQ0Q