Today, I'm interviewing Deborah Piccurelli, a winner in a contest the The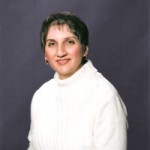 Christian Authors Show and listed in the book, 50 Great Writers You Should be Reading. I've got lots of questions, so let's get started.
Jim:  You write stories woven around dark issues.  In Hush Little Baby it is fetal harvesting.  In the Midst of Deceit a man seriously injured in a skydiving accident.  What makes you seek out the dark issue stories?
Deborah:   I feel that these issues are what the Lord put on my heart to write about. There's just a certain interest I have in them, and they are issues and causes I want to help do something about.
Jim:  Do any of these themes come from some actual incident you know about, or do they just show up in your imagination?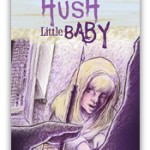 Deborah:  In the first book, In the Midst of Deceit, it just came to me as an idea. I later found out that very incident actually happened, and in the exact same town that I used in the book! For Hush, Little Baby, the fetal harvesting is something I saw being explored on television and in magazines. When I researched online, there was a slew of information. This problem is ongoing.
Jim:  There was a long gap between In the Midst of Deceit and Hush Little Baby.  Would you care to tell us why such a long time waiting for book number two?
Deborah:  I had put novel writing aside for a while to collaborate with a Christian film producer on a script from one of my stories.
Jim:  Can you give us a look at your writing schedule?  Do you have a set time each day, or grab what time you can, or … what?
Deborah:  Oh, I'm definitely a grabber! I would like to have a set writing schedule, but my life is such that it's impossible at this point in time. I used to wake at 5:00 am to write for an hour before the rest of the household got up. I'm still waking at that time, but I now use that hour to spend with the lord. That trumps writing anytime! So I take whatever time I can to get on the computer, which mostly ends up to be in the evening when everyone is at least settled in and watching TV or sleeping.
Jim:  Your new book, Love Comes Calling, doesn't have particularly dark issues, but it does center around deception. Tell us how or why you turned to that issue?
Deborah:  First, I just want to explain why Love Comes Calling doesn't deal with a particularly dark issue, nor does In the Midst of Deceit. I wrote both of those books long before I discovered what my brand was. That came with Hush, Little Baby, because I realized I had tons of notes for other planned books that were all issue and cause subjects. But I had LCC just sitting on a floppy disk (yes, I said floppy!). I didn't want to let the story go by the wayside, so I entered it into a contest I heard Prism Book Group was running last year.
As for turning to the subject of deception, I had originally written the novella for a publisher who did anthologies, and had advertised four of them they would soon be accepting manuscripts for. I chose the one themed, A Well-kept Secret. Intriguing, right? I had to come up with a story to fit. Thus, the deception, because secrets in novels usually involve some unforgiveable actions on a character's part that they want to keep hidden.
As an aside, that publisher I originally wrote LCC for had decided not to release that particular anthology before I submitted, and later ceased publishing all anthologies.
Jim:  Tell us about your launch party for Love Comes Calling.
Deborah:  As I write the answers to these questions, the book has not yet released. The date for that is March 20th. The book launch will be April 10th, and will have happened by the time you post this interview. It will be on Facebook, and there will be games, contests and prizes. This is the first book launch I've ever had. If any of your visitors would like to attend, they can "friend" me at www.facebook.com/deborah.piccurelli. Then they can be invited to the launch party.
Jim:  How do you plan to market the book now that it is launched and on its way?
Deborah:  I will continue to guest on blogs that are willing to host me; I applied to be included in a column for USA Today's romance books report, and the columnist stated she has put it into her "to be considered" pile; send announcements to contacts on my email list and to groups on the social networks; inquire of the Lord for instructions on anything He wants me to do to get the book out there.
Jim:  Would you give the readers a look inside Love Comes Calling?
Deborah:  Sure. Here's an excerpt from Chapter 1:
CHAPTER ONE
Derek Spencer grasped the steering wheel of his SUV with one hand,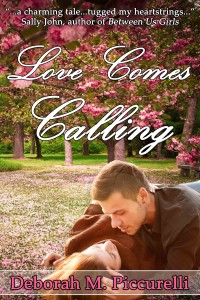 while searching for the address scribbled on the scrap of paper he held in the other.
Would she be willing to see him? The decision to come forward had been tough, but necessary to his peace of mind and his spiritual well-being. He wanted to make things right with Charlotte Parkes.
Spotting the house, he slowed down and pulled into the driveway. He sat in the car and stared at the small brick rancher, trying to perceive the character of the woman who lived inside. The neatly mowed lawn resembled a rich green carpet, and colorful flower beds lined the perimeter of the house. Cheerful drapes adorned the inside of the picture window in front, inviting him to exit the car and ring the doorbell. He accepted the invitation and bounded up the walk.
Barely three seconds passed when the door was torn open and an attractive young woman with a profusion of curly red hair reached out and pulled him in by the arm.
"Finally. You were supposed to be here an hour ago. What happened? Traffic jam on Route 356?"
"I…" He scratched his head. Did she know him?
"Forget it. You're here, now. Though I'm not sure your lateness speaks well of you. If you want a job, you must be prompt."
"But…" What on earth was she talking about?
"Shall we begin? My sister is waiting in the other room." She strolled away, motioning for him to follow.
Having no other alternative, he complied. At least he had gotten through the door.
As they passed through the living room and dining room, Derek studied his surroundings. The place was neat, clean, and comfortable-looking. The living room set was made up of odd pieces of furniture put together in such a way it gave the illusion they were made especially to be a part of this grouping.
When he entered the kitchen, he recognized Charlotte Parkes from her picture in the newspaper. With her porcelain-smooth skin and shiny auburn hair, she looked like an
angel. Engrossed in squirting colored icing through a tube onto a layer cake, she hadn't yet noticed him.
"Charlie, the contractor's here." Her sister jerked a thumb in his direction.
Contractor?
Charlotte put down the decorating tool, turned full face, and smiled. "Hello, I'm Charlotte, but you can call me Charlie." She extended one hand and touched the side of her face with the other.
Nothing prepared him for what he saw.
JIM:  And lastly, where can our readers get more information on your books, and what is a buy link for them?
Deborah:  Naturally, all of the information and links are on my website at www.deborahmpiccurelli.com, with a special discount link to the publisher for a 25% discount for Hush, Little Baby, and another from Deeper Shopping.
Here are Amazon links for each of the books:
LOVE COME CALLING: Amazon.com
HUSH, LITTLE BABY   : Amazon.com
IN THE MIDST OF DECEIT: Click here to purchase at Amazon.com
Thank you so much for hosting me, James. It's been a pleasure to be here.
JIM:  Take a moment to Share and Like.  Thank you.