Today I'm interviewing Eula Moore, the grandmother of Crystal Moore,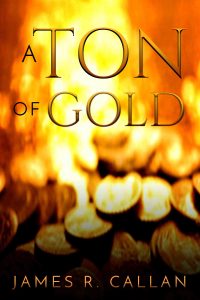 heroine of A Ton of Gold and A Silver Medallion. Hello, Eula. How are you today?
EULA: I'm upright, and I'm talking, so I guess I'm doing pretty good.
JIM: Tell me about The Park, since it seems to play a big part in Crystal's adventures.
EULA: The Park, that's where I live, is where Crystal grew up. Her parents were both killed in a freak auto accident when Crystal was a little tyke. So she came to live with us at The Park. It's 320- acres in the piney woods of east Texas. Dan and I bought it when we was first married. That was might near sixty years ago. Couldn't afford it. But you know kids. We got it and made it work. It's a beautiful places with a great lake, good fishing, nice hills, and lots a trees. Very peaceful. We named it The Park right after we move on it. Anyways, Crystal roamed around The Park from the time she was seven until she went off to college at S.M.U. and then Stanford. Course, now she lives in Dallas. Too much traffic and noise there for me.
JIM: You mentioned Dan. That's Crystal's granddad?
EULA: Was. He went to meet his maker a dozen years ago. My first and only true love. And a great Dad and Granddad for Crystal.
JIM: That must have been about the time Crystal left for S.M.U..
EULA: Right. S.M.U. and then rode off to Californi. Entered some kind a Ph.D. program or other.
JIM: Did she earn her doctorate?
EULA: Nope. Something happened just before she was to finish. Don't know what, and she never would say. Didn't want to talk about it. Never did. But, she thought she was just a few months from ending and she ups and leaves and comes home. Moped around The Park for months. Finally got a job at that info retrieval company where she works now. That has perked her up. She getting back to her old self.
JIM: This past year, she went down to Mexico to rescue some young girls. What did you think about that? I mean, she doesn't seem like the adventure-seeking type to me.
EULA: She ain't. And I thought it was a dumb thing to do. Could a got herself killed. But she's got a soft spot for things that can't help themselves. So, off she went.
JIM: Didn't you try to stop her?
EULA: She a grown woman. And she's got a strong head and, except for that fool thing, a good head on her shoulders. I told her it was a dumb idea. But she thought those kids would never be free unless she did something.
JIM: And she did rescue the girls and reunite them with their mother.
EULA: Yes sir. She did. Course then she had two crooks trying to kill here. Good thing she had her old Nana to help her take care of them skunks.
JIM: I'd love to hear the details of how you two captured two assassins.
EULA: And I'd love to tell you. But not today. I got a game of Mexican Train waiting for me. Don't want to keep my friends waiting. You come on back another day and I'll tell you how I captured those two bums. Well, actually it was Crystal and me. But right now, I gotta go. Bye.
JIM: And folks, she just took off. I never had an interview end so abruptly. We'll get back with her on another day. Knowing what I'm finding out about Eula, I'm sure it will be an interesting story. That's all for today.