I received this from an Austrailian author, Kitty Boyes.  I don't often

post these, but I thought this raised a question sufficiently interesting that I would put it up.  I would love to hear if any of you have experienced this – help a stranger and have it change your life.
Have you ever helped out a stranger only to have it turn your normal life into something that resembles a nightmare?
Arina did.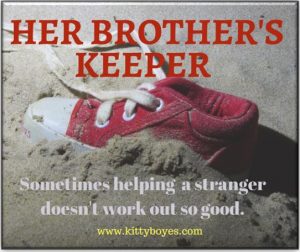 After a dead man is discovered in one of her motel units, his only relative, an older sister, asks Arina to help her. The sister believes her brother was murdered.
Despite being dissuaded from getting involved, true to form, Arina dives in. Head first.
Without knowing exactly what she was getting into, she inadvertently puts lives on the line. Including the life of her two-year-old son, Ben.
Money laundering and multi-million-dollar tax evasion scams are uncovered. Ruthless and desperate people will do all they can to avoid detection to protect their interests. Including murder.
Released in e-book late November 2017 and in paperback late December 2017. Book Three 'HER BROTHER'S KEEPER' of the Arina Perry Series takes a phycological ride on the wild side.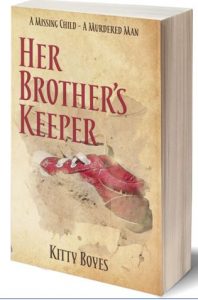 LINK TO THE NOVEL https://www.amazon.com/Her-Brothers-Keeper-Missing-Child-ebook/dp/B0743JS9VM
Have you had the experience of helping a stranger, and having it really affect your life – good or bad – or maybe just a change?  Leave us a comment and tell us about it.  Thanks.