Today's guest is J. R. Lindermuth, a retired newspaper editor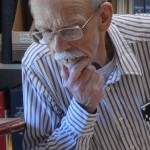 and the author of 14 novels, including six in his Sticks Hetrick crime series. He currently serves as librarian of his county historical society, where he assists patrons with genealogy and research.  He lives and writes in a house built by a man who rode with Buffalo Bill Cody. Lindermuth's  latest novel is The Tithing Herd, a classic Western.  He will give a digital copy to one of those who leaves a comment.  I've read the book.  I suggest you leave a comment.
All of us are defined by our desires. What we want, as well as what we need to sustain our lives. What a person is willing to do to achieve these desires creates conflict, both within ourselves and with others.
These conflicts–big and small–make the world go around. That is, our personal world–how we navigate in our personal lives as well as in our interactions with other people.
Conflict, therefore, is a necessity in any work of fiction if we want readers to accept the "reality" of our characters. Kurt Vonnegut suggested writers make their characters want something on every page. These desires, no matter how small or seemingly unimportant, reveal the nature of the character.
Such little revelations may not be important to the overall plot, but they give even minor characters a hint of humanity, something the reader can relate to and help stimulate interest in your people. Still, they shouldn't be mediocre. Some psychological crisis or a secret which could relate to the plot would be better than Charley J. worrying will he have enough cash left this week to paint his porch.
Lester Dent, the prolific pulp writer and creator of Doc Savage, suggested introducing the hero and swatting him with a fistful of trouble right at the start and keeping it up throughout the story. That's certainly conflict and guaranteed to keep the pot a-boiling, essential in a pulp story. But sometimes it's better to spread the conflict between all the major characters and sort out the problems between them as happens in real life. We're all individuals, but relationships with others are important to our overall welfare. Action is important to move a story, but it doesn't always have to involve gunfights or car chases to be interesting.
In my latest novel The Tithing Herd, Lute Donnelly is a former lawman obsessed with the idea of vengeance against the outlaws who murdered his brother. Lute is diverted first from his goal by compassion for Tom Baskin, a youth duped by the outlaws and falsely accused of rustling. Helping Tom enables Lute to regain a semblance of his true nature. He's diverted once more when Serene McCullough, the woman he loves, begs his help in moving the herd cash-strapped Mormons have gathered to pay their church tithe. When the outlaws kidnap Serene and hold her ransom for the cattle Lute's desire for vengeance is supplanted by desperation to rescue her.
Each of the other major characters in this story also have desires driving them to act as they do. Granted, most of those desires are of less significance than that of my protagonist, but they are essential to the action of the story and to their relationship with Donnelly.
The Tithing Herd is available from Sundown Press http://www.sundownpress.com/, the publisher; on Amazon, Barnes & Noble and other major booksellers.
For more about the author and his books visit http://www.jrlindermuth.net
And remember to leave a comment – even a short one – for a chance to receive a free copy of this classical western.