Today's guest is Kristin Neva, an author and blogger who writes
small-town fiction set on Upper Michigan's Keweenaw Peninsula.
Kristin's first book, Heavy, co-authored with her husband, Todd, journeys through the first year after Todd's ALS diagnosis as the Nevas struggle to find meaning, hold on to faith, and discover joy in the midst of pain.
She will give a copy of her book Copper Country, A Copper Island Novel, to someone who comments, so please sign up.
3 Ways to Make Deeply Flawed Characters Likable
If you've ever interviewed for a job, you may have been asked about your greatest strengths and weaknesses. It's a trick question. They're looking for chinks in your armor.
You may have answered with a weakness that can only benefit your potential employer — "Sometimes I'm so dedicated to my work that I forget to eat lunch and I get really hungry."
It's a non-weakness.
If our characters are too perfect, our readers will write them off as unrealistic. Readers want flawed characters.
Some flaws are endearing. In a romance, we cheer for the nice guy who likes the girl but tries too hard. We laugh at the absent-minded professor and the clumsy detective.
But when we write about deep themes, we may want our characters to have deep flaws, even at the risk of making them less likable. A sarcastic waitress. A judgmental woman.
Flaws may be part of the character arc or necessary for the conflict, but the protagonist must still be likable.
Here are three ways to make deeply flawed characters likable:
In the 1978 Christopher Reeves movie, Superman literally saves a cat stuck in a tree in one of the opening scenes.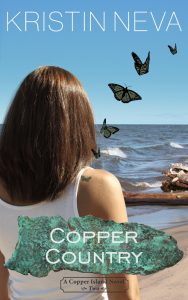 In my most recent novel, Copper Country, my main character has a sharp edge to her tongue. To make Aimee more likable, I inserted a intellectually disabled young man into an early scene with Aimee working at a diner so she could demonstrate her kind heart.
"I got three dollars and fifty-seven cents." Mikey strewed crumpled bills and loose change on the counter.
"That'll buy you whatever you want." It didn't matter how much he had, because Aimee always covered the rest from her tips.
Make the character recognize and regret her flaw.
In my first novel, Snow Country, Beth is interested in Danny, but she recoils when he tells her about his sexual past.
One of my beta-readers didn't like my main character because she was judgmental, but that was one of the main conflicts driving the book. So I had Beth recognize and regret her flaw.
"I'll go now." He stood.
"Don't go." She held his forearm and pulled him back down to the chair. "I'm sorry I was judgmental. I don't want to be like that."
Her judgmental-ism continued to be an issue in the story, but her being self-aware of the flaw makes it more palatable.
Show potential for change.
Readers will tolerate a flawed central character if they see potential for change.
In my first novel, my main character Beth is not only judgmental, but also lacks confidence. Beth had just been jilted a few weeks before her wedding, and she is understandably upset. She is 25 years old, and she'd like to move on with her life, but her mother is super controlling.
My beta-readers were not really rooting for her, but they couldn't quite put their finger on why not.
I learned that readers do not like weak characters. They'll root for underdogs only when they show courage. But the central character arc of my first book was Beth developing sisu, which is the word Finnish-Americans use for resilience in the face of adversity.
Ultimately, I rewrote the opening scene in which her fiancé dumps her during their burrito lunch, giving her a little more spunk than she had in earlier drafts.
"We can still be friends." He wiped his desk with a napkin.
Well, I like my friends so that's not going to work, she thought. "Let me help you clean that up." She swept both burritos into the garbage can.
"Hey, I was going to eat that."
"I was going to marry you." She plunked the can down next to him. "Go ahead. Eat it." She twisted the engagement ring off her finger and was about to throw it at him, but then thought better of it. She stuffed it in her pocket and left.
Those are just three ideas to make flawed characters more likable. I'd love to read other ideas from you.
Comment below and we'll enter your name in a drawing to win a copy of Kristin's new novel, Copper Country.
Learn more about Kristin and explore Copper Island at KristinNeva.com