Today's guest is a retired newspaper editor, J. R. Lindermuth.  He lives and writes in a house built by a man who rode with Buffalo Bill Cody. He has published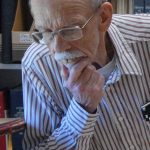 16 novels, including six in his Sticks Hetrick crime series, plus a non-fiction regional history. His short stories and articles have been published in a variety of magazines. He is a member of International Thriller Writers and is a past vice president of the Short Mystery Fiction Society. He currently serves as librarian of his county historical society, where he assists patrons with genealogy and research
If you write fiction, you have to pay attention to facts.
That may sound like a contradiction, but it isn't meant to. Fiction offers a simulation of reality and if you wrongly portray something your reader knows as 'fact' you may be called out on it.
Suppose you're writing a story set in Arizona in the 1870s (as I did with Geronimo Must Die). You can rely on imagination and create a world to suit your purpose. That's called fantasy and, if your reader is informed that's the intent, it'll probably be accepted without question.
On the other hand, if you want your reader to believe the story is set in this place and time, it becomes important to express things as they actually were. You can twist things a little to suit your purpose (that's called fiction), so long as your reader is willing to accept them. For instance, your reader will accept your character riding a horse or mule but may frown if you seat them on a dragon (that would be fantasy).
There are two methods. One is called empathy. The other is research.
Empathy is vicariously experiencing the emotion, thought or action of another person. This is a useful tool for a writer in many circumstances. However it has its limits. Some characteristics are timeless. But you live in the 21st century and attitudes today differ to a certain degree from those of the 19th century. How can you know what's true today was also true then?
The answer is through research. You don't have a time machine, but we do have a good substitute to give us some idea of what life was like in those days. Reading biographies, histories and fiction of the period provides some insight. These sources were important to me in accurately depicting the Apache and life on the San Carlos reservation. An even better choice for general historical fiction is newspapers of the period. Newspapers reflect the character of the times in which they're created–they show us what was important to people, what they did with their time, their morals, their prejudices. Everything you need to create a believable character of the period.
These newspapers are available in collections at historical societies, in many libraries and even on line. Librarians are good at telling us where to find newspapers to suit our needs. Reading them is fun and sure to stimulate your imagination.
Here's a blurb for Geronimo Must Die: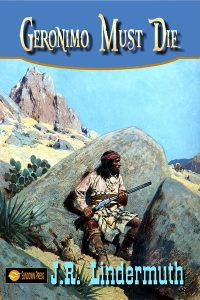 Geronimo and rascally half-breed Indian scout Mickey Free have never been friends.
Yet, Mickey has already saved Geronimo's life twice (without acknowledgement) and is the only one who can keep the great Apache leader out of the sniper's sights now. The sniper has already murdered several tribal leaders and Mickey believes it's all a plot to prompt a great runaway from the hated San Carlos reservation.
Mickey's efforts are stymied by Al Sieber, head of scouts, and John Clum, reservation agent, as well as suspicion of other Indians. Adding to his problems, Mickey is in love with a girl whose name he keeps forgetting to ask and who may be allied to the plot.
Only perseverance, risk to his life and, eventually, Geronimo's help will enable Mickey to resolve this dangerous situation.
Lindermuth's  latest novel, Geronimo Must Die, a classic Western, was released on March 28 by Sundown Press.
 https://www.amazon.com/Geronimo-Must-Die-J-Lindermuth-ebook/dp/B06XFZJG5H/ref=la_B002BLJIQ8_1_20?s=books&ie=UTF8&qid=1490444850&sr=1-20&refinements=p_82%3AB002BLJIQ8