Today, Steve Sabatka, talks about growing up watching the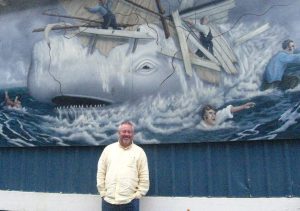 early animated movies when each scene would require twenty-four graphic panels for a single second of a movie.  Steve lives in Newport, Oregon and teaches at Newport High School.  Steve writes short stories (has won the NETWO short story contest one year) and in 2016, published a young adult novel about teenagers finding a … well, I'd better let Steve tell you.
I was five years old, watching that classic old flick, King Kong, and losing my little boy mind. Drum-beating natives. Hungry dinosaurs. Wild, throbbing orchestral music. And a giant gorilla with rolling eyes and great, fearsome teeth – fighting biplanes from atop the highest building in the world. It was better than any three ring circus or screaming carnival ride. But when Kong, shaggy, bleeding, and defeated, let go and fell one hundred and two stories to the Manhattan pavement, I lost it, son, flipped out, crying and screaming so loudly that my dad thought a police car, old-style siren blaring, had pulled up in our front yard. The King was dead and I was not happy about it. Dad consoled my by explaining that Kong wasn't dead – because he'd never really been alive. It had all been a trick. A special effect.
In time, I learned that Kong was a puppet, basically, just eighteen inches tall, with metal joints under layers of rubber and trimmed rabbit fur, and that an ex-boxer and newspaper cartoonist named Willis O'Brien brought the mighty ape, to life, one frame of movie film at a time, just like Bugs Bunny or Donald Duck, and that one fleeting second of snarling, chest-beating action required twenty four separate poses, twenty four clicks of the camera shutter. I could imagine Mister O'Brien going off to work every morning – with a briefcase full of toy monsters and dinosaurs – and being paid to play with them all day.
I wanted to be a monster tamer, too. Just like O'Brien and Harryhausen and all the other movie magicians, the names you see at the end of movies like Mighty Joe Young and Jason and the Argonauts and When Dinosaurs Rules the Earth. So I started making my own monsters out of dime store modeling clay – with toothpick points for teeth and eyes that were sucked-down lemon drops – posing them, a millimeter or two at a time, and then snapping off frame after frame of eight millimeter, Kodachrome film.
When the finished film came back from the pharmacy, I would thread up the projector, hit the lights, and then stare, awestruck, as my homemade creatures prowled across the white wall of my bedroom – on their own, as if they had been resurrected from their fossil tombs to growl and shake the earth once more. It was truly magic – and the thing I wanted to do for the rest of my life.
But then, as I got older, something very sad happened – just like in the folk song, "Puff the Magic Dragon." Clay monsters and dinosaurs made room for other toys. I grew up, went to school, got a job as a school teacher, and pretty much gave up on making monster movies. I also started writing. A lot of short stories. Two bad novels. Strangely, monsters kept cropping up in my stories. Aliens. Dinosaurs, too. I even wrote a very short sequel to King Kong, entitled Fall Guy.
Jurassic Park all but killed the art of stop motion. Made it extinct. And so gone are the days when folks would walk out of a theater after seeing The Seventh Voyage of Sinbad, say, or The Beast From 20,000 Fathoms, asking. "How did they do that?" Everybody knows the three letter answer: CGI. Computer Generated Imagery. Monsters have become nothing more than a file on an ILM desktop.
I miss the old days. And I want younger folks to know about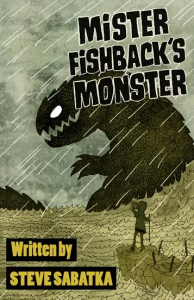 my heroes and all their frame-by-frame voodoo. So I wrote a young adult novel about a teenage monster nerd (me, basically), and his two oddball buddies – a Vietnamese refugee, and a 250 pound wrestler – trying to explain the scaly, hairy, multi-toothed horror that has just washed up dead on the Oregon Coast.
My book, Mister Fishback's Monster, was recently unleashed on an unsuspecting world by Black Bed Sheet Books, and, from what I'm told, it was their bestselling young adult title for 2016.
The back cover of my book reads like a B-movie poster:
"Ravenous beasts from the dawn of time! Gun packin' roller derby queens! Chattering freaks, belched up from the ocean floor! Bug-eyed Martian bullies! Political intrigue! Corporate corruption! Bigfoot! Blood! Guts! Pam Grier!"
Mister Fishback's Monster is funny. A little creepy. And the special effects are amazing.
I hope you'll check it out. And I hope to hear from my fellow stop motion maniacs. I'll send a free copy to the person that can tell me (via Facebook) the name of the unsung hero, the amazingly talented man that actually made Kong (and all the other denizens of Skull Island) out of so much rubber and cotton and metal before handing them, lifeless, over to Willis O'Brien.
 Postscript:
I was fortunate enough to meet Fay Wray in person several years before she passed. I told her about freaking out when I was a kid and how I had hoped she and Kong would've lived happily ever after. Ms. Wray gave me the kind of expression usually reserved for the hopelessly delusional and said, "Surely, now that you're older, you understand that the relationship was not very practical."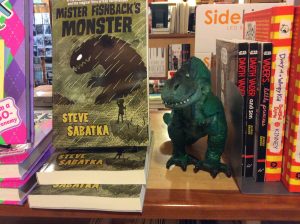 Or something like that.
I guess she was right.
But still.
JIM:  We love for you to leave a comment.  Thanks.