Today's guest is award-winning author Lena Nelson Dooley.  With more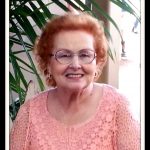 than 875,000 copies of her books sold, she has been on the ECPA and CBA Bestseller lists, Publisher's Weekly Bestseller list, and several Amazon Bestseller lists. She's won the Will Rogers Medallion Awards, the Selah Award, the Reader's Choice book award among other honors.  Lena hosts "The Lena Nelson Dooley Show" on the Along Came a Writer blog radio network.  Lena will be giving a copy of her November book to one of those who leave a comment.
I love Christmas. Who doesn't? The holiday season from Thanksgiving through New Year's Day is my favorite time of the year. Why?
Family and friends!
That is one time that most of us take the opportunity to connect in a meaningful way with them—at home, at social gatherings, and at church special events like our church's Carol and Candlelight service.
My husband and I don't let the hustle and bustle of the holidays tire us out. We take it easy, get enough rest, then enjoy the festivities.
One tradition our family has is that I make Sour Cream Chicken Enchiladas. James helps me, because our there are 17 members of our immediate family. This year, he decided that he didn't want us to make the enchiladas. He posted on Facebook to the family that we weren't making them.
All our grandchildren are adults now. Our youngest grandson, who in his late 20s and our youngest granddaughter, who is in her early 20s, both immediately commented that they would help, so did one daughter.
This was actually another get-together that we all enjoyed. We made them at our married granddaughter's house.
I'm sure you have traditions for Christmas. What are your favorite holiday traditions?
Some people enter the new year stressed and tired. Because of building stronger relationships with our family and friends, James and I entered 2017 renewed and looking forward to what God has for us in this new year. I hope and pray you can welcome this month as the beginning of wonderful things God has for you, too.
2016 was a year where God moved in my writing life as never before. By the end of December, I'd had 9 books release, as well as audio editions for three of my books. Four of the books were both print and ebooks, and the other five were only Kindle books. Don't worry. If you don't have a Kindle, Amazon offers Kindle apps free for smart phones, tablets, and computers, so everyone can read them.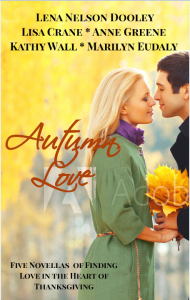 With the commercialization of Halloween and Christmas, I've felt that Thanksgiving is almost a forgotten holiday. Most people think of it as food and football when it's so much more than that. My last November book was a novella collection written by four of my friends and me. Autumn Love is about five couples who find love in the heart of Thanksgiving.
I will give a copy of this ebook to one of those who leave comments.
My December book A Heart's Gift is a book of my heart. The story stayed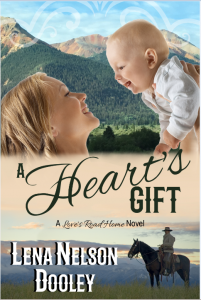 in my mind for a few years before I wrote it. This book is available on Amazon in print format and as an ebook, Here's the back blurb for the book:
Because of an earlier betrayal, Franklin vows never to open his heart to another woman. But he desires an heir. When Lorinda is finally out from under the control of men who made all the decisions in her life, she promises herself she will never allow a man to control her again. But how can she provide for her infant son? Marriage seems like the perfect arrangement until two people from Franklin's past endanger Lorinda. How can he save her? And how will this affect the way they feel about each other?
Be sure to leave a comment for a chance to win one of Lena's books.  Even a short comment will qualify.  Thanks.
Website: www.lenanelsondooley.com