Today's guest is Eileen Obser.  She has been teaching creative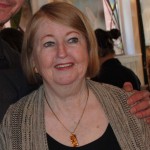 writing courses for twenty years. Her stories and personal essays have been published in a number of major newspapers and national magazines, including Newsday, and Ms. Magazine. Her memoir, Only You, covering her teenage years, was Published by Oak Tree Press last year.  She lives and teaches on the east end of Long Island, in East Hampton, New York.  Okay, Eileen.  You're on.
I am delighted to be Jim's guest blogger this week and wish to write here about memoirs.
As a memoirist, and as a teacher of memoir and personal essay for over 20 years, I find so much pleasure in my work. My adult writing students, ages 18–90, constantly surprise me and often, themselves, at memories of the past that they can summon up during our workshops. Whether tapping into happy or unpleasant scenes from their childhoods or later on, sharing these reminisces brings them a great deal of satisfaction.  Revealing traumatic experiences can often cause a calming effect or lead to a path of healing.  I'm thinking now of powerful, well-known memoirs such as The Liar's Club, The Glass Castle, and Angela's Ashes, to name just a few, whose authors were able to rise above the sufferings of their youth.
Frank McCourt, in the famously quoted second paragraph of his book, writes,  "When I look back on my childhood, I wonder how I survived at all." Of his miserable Irish upbringing, we read, "You might be poor, your shoes might be broken, but your mind is a palace." And, "It's lovely to know the world can't interfere with the inside of your head."
While I encourage students to read these and many other memoirs, I don't expect them to write whole books or best sellers. Nor do I push them to go down so deep into the tragic parts of their lives if it could cause them harm now, in the present.
My own memoir, Only You, set in my teenage years and encompassing,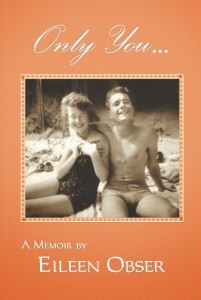 really, the first 20 years of my life, was written over many years, starting when I was in my late 40s. I went as deeply as I felt comfortable, satisfying my need and desire to reveal myself, without exaggerating or exhibiting self-pity. Again, it was a slow process. As I grew older, the painful memories, along with the happy ones, became more understandable. I could be much more objective in relating them to the reader.
I'm very pleased that my family, and friends from the teenage years, have read the book and complimented me for writing it, for capturing so many memories this way. Not one person faulted me for "overdoing" it, or for hurting anyone's feelings with the story.
Certain students make me proud because they are indeed taking it slow and writing strong memoirs that they share in our workshops. "Keep going," I tell them – we all tell them. Let us know more. And so they continue, fulfilling their needs to write and, at the same time, to communicate their life experiences with us, their readers and colleagues.
A quote from William Zinsser, the author of On Writing Well and Writing about Your Life, among other books: "Memoir isn't the summary of a life; it's a window into a life, very much like a photograph in its selective composition. It may look like a casual and even random calling up of bygone events. It's not; it's a deliberate construction."
And from Anne Lamott (Bird by Bird and, most recently, Small Victories): "You own everything that happened to you. Tell your stories. If people wanted you to write warmly about them, they should have behaved better."
What's your story, I wonder? And have you started writing it?
Eileen's website: www.eileenobser.com
Follow  Eileen on Facebook
 JIM:  If you want to share a particular memory from your early life, feel free to put it in a comment.   AND, don't forget to "like" or "Share" this page.  Thanks.